P.G. Wodehouse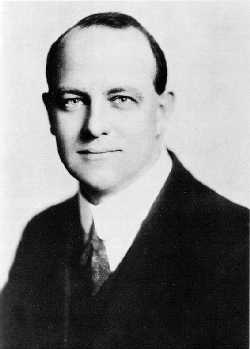 Sir Pelham Grenville Wodehouse (pronounced "wood-house"), known as "Plum" to his family and friends, wrote some of the most entertaining novels, stories, plays, lyrics, and poems of the twentieth century, and created enduring characters that millions would like to call their friends. His professional career may well have been the longest of any author; his first story was published in 1901 when he was 19 years old, and he continued to write up to and including the day of his death on February 14, 1975, at 93 years of age.
For three-quarters of a century, on both sides of the Atlantic, he worked to craft and polish an inimitable style, with brilliantly-devised farcical plots and a witty use of language that reads as though it had been tossed off without a care. His work has rightly been compared to Mozart's music and Fred Astaire's dancing; seemingly simple and effortless because so much behind-the-scenes work went into its preparation.
Not surprisingly, a famous author like Wodehouse has been the subject of multiple biographies. But in life he was a shy, retiring, mostly reticent fellow, who did not cultivate his celebrity as much as he did his work. Thus almost every successive biography has shed some new light on the man and his writing and current researchers are to this moment still seeking and discovering new biographical details, facets of his life, and even some lost works of Wodehouse.
The most current and, to date, complete study is Robert McCrum's 2004 Wodehouse: A Life. It is nicely filled out as well by Sophie Ratcliffe's 2011 edition of Wodehouse's personal correspondence, P.G. Wodehouse: A Life in Letters, which in addition to good biographic detail, reveals much of the man in his private moments in writing to his few friends, loving family, and many correspondents. Earlier biographies include: Barry Phelps' 1992 P.G. Wodehouse: Man and Myth, David Jasen's 1975 P.G. Wodehouse: Portrait of a Master, Bennie Green's P.G. Wodehouse: A Literary Biography, and Frances Donaldson's P.G. Wodehouse: The Authorized Biography.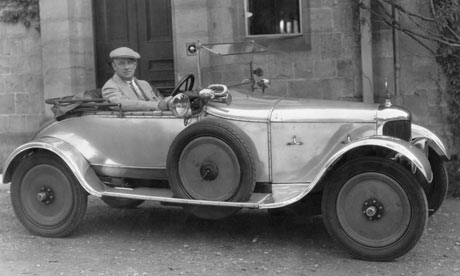 More specialized, less comprehensive biographic efforts are also available. Baroness Reinhild von Bodenhausen published P.G. Wodehouse: The Unknown Years in 2009. It deals with Wodehouse's world from 1941 to 1944 while he was interned as a civilian in Nazi Germany. Iain Sproat published Wodehouse at War in 1981. It is a factual look at the Berlin radio broadcasts controversy. Joseph Connolly's 1979 P.G. Wodehouse: An Illustrated Biography provides useful images and words to help give both shape and tone to the author's life. A Wodehouse fan, Roderick Easdale, published a small paperback treatment, The Novel Life of P.G. Wodehouse, in 2011, and another enthusiast, Mark Hichens, put out The Inimitable P.G. Wodehouse in 2009, but other scholars have approached his life, as reflected in his works and work habits, more comprehensively.
Anything by Richard Usborne is recommended. His 1961 book, Wodehouse at Work, is one of the first critical studies of the author. Wodehouse at Work to the End, 1976, revises and completes the study. The 1991 work, After Hours with P.G. Wodehouse, makes a welcome addition to these two earlier Usborne books.
2019 saw a new study of Wodehouse begun. Paul Kent of The P.G. Wodehouse Society (UK), an author and scholar (and unabashed Plum fan), published the first of a projected three-volume treatise entitled "Pelham Grenville Wodehouse." This entrancing Volume 1, "This is jolly old fame", was critically and publicly well-received and we eagerly await Volumes 2 and 3. Paul Kent has mined the canon to its breech and found paying ore at every level and generously shares his insights as to why so many so delight in reading or listening to Wodehouse.
Wodehouse himself tried his hand at autobiography and promptly revealed his proper dedication to fiction in Bring On the Girls, written with Guy Bolton in 1953. Wodehouse also gave us two more somewhat biographical books in four similar editions (a very Wodehousian methodology): Performing Flea (1953) in the U.K. became Author! Author! in 1954 in the U.S., and the 1956 America, I Like You book in the U.S., came out as Over Seventy in 1957 in the U.K.
It is a difficult thing to treat the delicious language of Wodehouse to textual analysis. I mean, how do you stop just enjoying it long enough to analyze it, what? But some strong-willed scholars have done the job for us.
Of course, Richard Osborne's books, noted above, head the list of critical analysis and Mr. Osborne has the great goodness to link his cogent observations to a great many illustrative quotations from the Master's works. Unsurprisingly, we also get the 1983 Heineman published jewel, Wodehouse Nuggets, selected by Richard Osborne, as a side light to his textual considerations. And now Paul Kent's analysis of Plum, noted above, has been usefully added to our critical appreciation of Wodehouse's writing.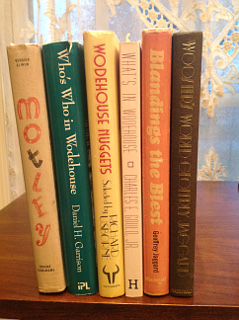 At least five other scholar's work on Wodehouse merit more praise than mere mention if one seeks a serious study of comic genius in language. The late Robert A. Hall, Jr., a former President of The Wodehouse Society, and a noted Cornell University linguistics professor, wrote The Comic Style of P.G. Wodehouse in 1974. It is highly recommended. In 1966, Richard J. Voorhees, of Purdue University, wrote P.G. Wodehouse for the Twayne's English Authors Series. 1977 saw Owen Dudley Edwards's P.G. Wodehouse (Plum would sense a nifty in the making here – see his preface to the 1929 novel Summer Lightning about the best one hundred books titled Summer Lightning.). Prof. Edwards also has the distinction of being an expert on Sir Arthur Conan Doyle – a favorite author and friend of Plum's. Somewhat farther afield, Dr. Maha Nand Sharma, in 1982, published, in India, Wodehouse: The Fictionist. Its complex diagrams doubtless appeal to some but his placing Plum in both a "Western" and an "Indian" Aesthetic Approach to written humor has a charm that helps readers appreciate the universality of Wodehouse's fiction. 1966 also saw R. D. B. French's P.G. Wodehouse appear in the "Writers and Critics" series. All five of these books provide well-reasoned critical and linguistic insights into what makes us laugh when reading the works of Wodehouse.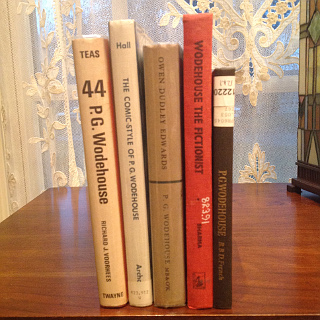 Two other notes of interest may be added. A comprehensive critical and analytical survey of Plum's work was published by Kristin Thompson in 1992 entitled Wooster Proposes, Jeeves Disposes or Le Mot Juste. It is recommended. But George Mikes's essay on "P.G. Wodehouse" in Eight Humorists, published in 1954, is of lesser note. Mikes is analytical in a very political and class-conscious way. It is a view of Wodehouse that suffers from a curiously pretentious objection to, well, Mikes's presumed pretentiousness of Wodehouse. Suffice it to say that Wodehouse is read and remembered fondly all over the world; Mikes is passé.
One of the hardest questions about Wodehouse, surprisingly, is how many books did he write? Plum reused materials shamelessly and the same, or a very nearly identical, book would have a very different, or sometimes rather similar, title on each side of the Atlantic. Plays would become books and vice versa. Subsequent re-issuing publishers would shamelessly tack on a new title. Most of the experts just say "about 100" and let it go. But if you choose to delve into the question, and we in TWS do delve, then you need Wodehouse bibliographies. Fortunately there are a couple of good ones.
The ever valuable David A. Jasen volume, A Bibliography and Reader's Guide to the First Editions of P.G. Wodehouse (first edition 1970) (Second Revised and Expanded edition 1986) is a real treasure trove, not just of bibliographic detail, but with character lists, and descriptions of the books, stories, and their characters.
The bible of bibliography is P.G. Wodehouse: A Comprehensive Bibliography and Checklist, compiled in 1990 by Eileen McIlvaine, Louise S. Sherby, and James H. Heineman and published by Mr. Heineman's Press. It is also notable for the wonderful illustrations by Peter Van Straaten. It was updated by the International Wodehouse Association, under the direction of its able President, Tony Ring, in 2001. Doubtless as a result of years of subsequent research and the most recent amazing work of the Globe Reclamation Project, it is about due for another Addendum. But for the solid, factual (not to say unerring) meat-and-potatoes details of Plum's publishing history, the Comprehensive Bibliography can not be beat!
A special word is merited about this endeavor, the P.G. Wodehouse Globe Reclamation Project. Headed by John Dawson, ably abetted by a crack team of other true Wodehousians on both sides of the Atlantic, and hosted on the Madame Eulalie website, they are dedicated to ferreting out the work of Wodehouse from The Globe newspaper columns in the 1901- 1908 time period when Plum was an editor and contributor. The authentication process is, in the end, subjective but the Group has published already in 2015 two books of writings attributed to Plum, newly made available to the reading public, as authorized by the Wodehouse Literary Estate, and that would seem to make it official.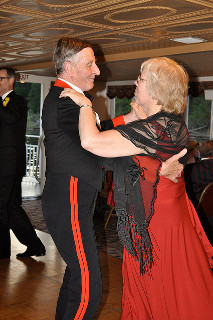 N.T.P. Murphy at his most
elegant.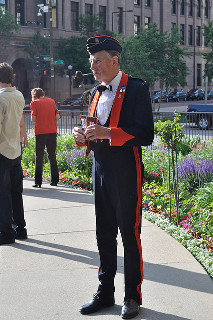 The pipe was a shared passion
with Plum.
The late Lieutenant Colonel N.T.P. Murphy, an English member of TWS before his death in 2016, stood out as a leading Wodehouse authority, serving as a consultant on the Globe Reclamation Project and the author of a long series of contributions to Wodehouse scholarship.  Starting with In Search of Blandings, Norman Murphy profoundly informed our understanding of Wodehouse as a fictionist deeply immersed in a real world which is oft-times oddly angled and reflected in his fiction. Colonel Murphy's knowledge and love of London informs the valuable guide to Plum in The Smoke in Three Wodehouse Walks. The two volume set, A Wodehouse Handbook (available in a second edition) is an encyclopedic guide to the real world of Victorian and Edwardian living that frames so much of Wodehouse's fictional world.  A Wodehouse Miscellany augments that guidance to all things Wodehousian, or Wodehousean, as Colonel Murphy would prefer it. The same encyclopedic, might not one modernly say wikipedic, guidance accompanies Murphy's Phrases and Notes. This is an annotated transcription of Wodehouse's earliest known writer's notebooks made by Plum at the turn of the Twentieth Century. Finally, but not least, is N.T.P. Murphy's The Reminiscences of the Hon. Galahad Threepwood. Here Murphy turned his hand to what might be called Wodehouse historical fiction, revealing at last the story of Parsloe and the prawns while combining countless true anecdotes of the real Pelican Club with Gally's fictional reminiscences. Such is his contribution that the Society has established an in his honor.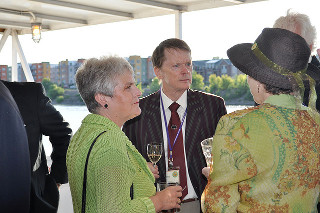 Tony Ring looking serious; not the usual
TWS convention pose.
Another and not lesser light of modern Wodehouse scholarship is Tony Ring. Also an English member of TWS and consultant for The Globe Reclamation Project, Tony brings his personal and professional tax expertise to bear in You Simply Hit Them With An Axe, the story of Plum's international taxation woes during his career. Tony Ring collaborated with Barry Day, a Wodehousian musical theater expert, to author the biographic P.G. Wodehouse In His Own Words. Ring's Second Row, Grand Circle, subtitled A Reference Guide to the Contributions of PG Wodehouse to the Legitimate Theatre, is, indeed, just exactly that. And Tony has also compiled a wonderful collection of Plum's sometimes hard-to-find poetry in What Goes Around Comes Around. Ring's indefatigable efforts to preserve and highlight the best of the least known of Wodehouse's work was applied to his short story fiction in the rare twelve volume set of Plum Stones. Finally, and by far the most useful of Wodehouse reference materials, is The Millennium Wodehouse Concordance, a richly illustrated eight volume set of Wodehouse names, places, things, words, and allusions, inter alia, originally two books, Wooster's World and Blandings the Blest, by Geoffrey Jaggard. When death prevented Mr. Jaggard from completing his planned comprehensive treatment of the full canon, Tony Ring was able to acquire the late author's extensive notes and complete the project. Full marks to Ring for completing this immense task so brilliantly and publishing the eight books in this invaluable set.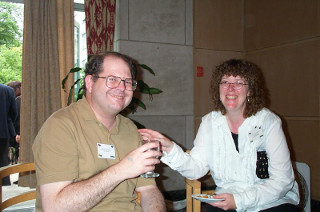 A Hollywood expert and a Wodehouse Society star.
The connection between Mr. Ring and our knowledge of Wodehouse in the theater is substantial. In addition to the books noted above Ring was the editorial consultant on Barry Day's The Complete Lyrics of P. G. Wodehouse. Sadly lacking the musical notations, most of which would be by the incomparable Jerome Kern, and which are available in other Kern music sources, but accompanied by wonderful illustrations and insightful comments of the many shows, this collection of lyrics shows Plum's mastery of rhyming lyrics to be brilliant. For a detailed look at the relationship between Wodehouse, Kern, and their frequent libretto partner Guy Bolton, a long-time Wodehouse friend, we recommend Bolton and Wodehouse and Kern: The Men Who Made Musical Comedy by Lee Davis, published in 1993 by James H. Heineman. Another valuable contribution to the study of Wodehouse in the theater was compiled by David A. Jasen, the Wodehouse biographer, in The Theater of P. G. Wodehouse, published in 1979. Hard-copy books of Plum's several plays are extant. In 1927 Brentano's published The Play's The Thing and in 1928 Methuen & Co. issued Good Morning, Bill. In 1983 Methuen published Wodehouse : Four Plays, containing scripts for the two noted above as well as Leave It To Psmith and Come On, Jeeves. A contemporary adapter, Ms. Margaret Raether, has also done very good work in taking Plum's characters, words, plots, and scenes to the stage in a series of plays. And in 2009 Paul R. Spring compiled a paper-backed edition of five satirical playlets, written in the first decade of the twentieth century, by Wodehouse and a colleague, Bertram Fletcher Robinson, titled Bobbles & Plum. Highly topical and well-annotated, they show Plum's early mastery of the comedic lyric. As a direct link from the stage to film in the 1920s and 1930s, P.G. Wodehouse and Hollywood: Screenwriting, Satires and Adaptations by the late Brian Taves, who was an erudite Library of Congress Film Curator and highly respected TWS member whose work, stands alone in its treatment of Wodehouse's brief but dramatic career in Hollywood. We owe much to Brian Taves for providing this history of a strange interlude for Plum and we owe a great deal to Hollywood for inspiring some of Wodehouse's funniest fictional characters and settings in his subsequent short stories and novels.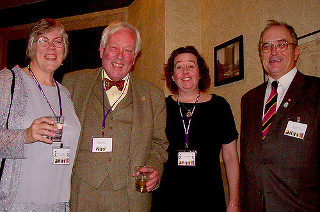 The cognoscenti forgathering.
Three other American authors, all members of TWS, merit mention in this survey of Wodehouse reference books. Daniel H. Garrison's Who's Who in Wodehouse, with a new 2020 third and expanded iteration, co-authored by Neil Midkiff, is an extremely valuable introduction to most if not all of Plum's created characters. The late Charles E. Gould, Jr. authored What's in Wodehouse. It is an informative and entertaining book, in a quizzical format, for knowledge about PGW and his works. All three gentlemen are, or were, honored contributors to Plum Lines and to more than a few of TWS's biennial conventions.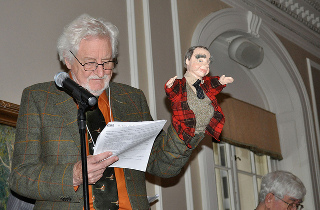 A Who's Who of TWS Convention skits.
One other invaluable study of Wodehouse and his work is very significant. P.G. Wodehouse: A Centenary Celebration 1881-1981, edited by James H. Heineman and Donald R. Bensen, was published in connection with the centenary exhibition held in New York City at the Pierpont Morgan Library. It is a series of astute essays by notable Wodehousians and richly illustrated by Peter Van Straaten. It also contains a great deal of bibliographical detail. It is somewhat rare but copies occasionally come on the market to be scooped up by serious collectors of Wodehouse and fans who want to know more about his word and works.
For pure plot summary, without bibliographic detail, but ever so enjoyable reading, seek out Richard Usborne's Plum Sauce: A PG Wodehouse Companion. The US edition of 2003 is published by the Overlook Press (The Overlook Press is so sound on Wodehouse that their address in NYC is on Wooster Street!).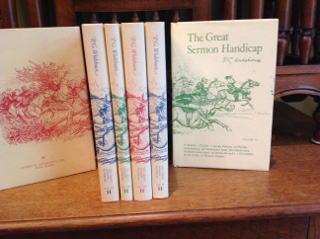 The Great Sermon Handicap in multiple languages
All the above  materials are in English but the world loves Plum as much, if not indeed more, than our TWS members.  The several other Wodehouse Societies are sufficient proof, and in Plum's long life he saw his books and short stories translated into many different languages (Heineman says nineteen), and Wodehouse was sure to get the check in each instance! And now books about Wodehouse are starting to appear in other than English language editions. A German language biography, P.G. Wodehouse:  Gentleman of Literatur, by Martin Breit, was published on 15 October 2015. Plum's works have long been translated into German as well as all the major European languages. Given both Wodehouse's, and his occasional editor's, penchant for tinkering with the text, to Americanize some of the books and stories, one might also say in certain cases they have been translated into American too. TWS is immensely proud to count as a member, Tamaki Morimura, the translator of Wodehouse to Japanese. Our good friends in the Dutch P.G. Wodehouse Society have produced a lovely little work translating that superb Vignette in Verse, "Good Gnus" from Unpleasantness at Bludliegh Court, into Dutch and several other languages.  No doubt they were inspired by the six volume opus produced by James H. Heineman, that translates The Great Sermon Handicap into nearly sixty other tongues. Among the joys of that six volume set are the illustrations by William Hewison and the individual introductions of each volume by renown Wodehousians.  Another recent foreign language biography is in Marathi by Prasanna Pethe from Mumbai, India.  Entitled Mala Umajalela Wodehouse, or Wodehouse, as I Understand Him, it was published 14 February 2015. Sadly, though based on the biographical works of McCrum and Ratcliff, a reviewer points out certain errors throughout, but still says that the book will be a useful introduction for Marathi readers about Wodehouse.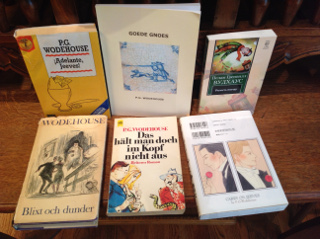 Translations
This is far from a complete bibliography of the books about Wodehouse and his work that are available to the public, but readers who wish to learn more about this remarkable man and his highly successful and prolific career as an author can get started from this set of references.