Conventions
"Binges on a Scale Calculated to Stagger Humanity"
2022 Convention Reservations Now Open
Reservations are now being accepted for the TWS Convention, "Where in the World is PELHAM? SAN DIEGO!" October 20–23 of 2022! Click to get all the skinny. Or skip the skinny and click here for the Registration Form.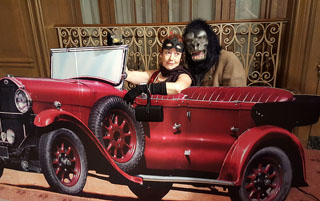 Monkeying about. Seattle, 2015
If Plum Lines is the "heart and soul" of The Wodehouse Society, its biennial convention is its "flesh and blood". It is here that TWS members gather, meet, trade tales, share their mutual enthusiasm for The Master and, often, become life-long friends. If you've never been, perhaps now is the time to start!
Like any major event, TWS's biennial conventions have evolved over the years, from a one-day gathering of just a few like-minded souls to a three- or four-day, fun-filled weekend of browsing, sluicing, activities, talks, costumes, and top-notch conviviality, with anywhere from 100 to 200 Plummies coming together from all over the world. So integral have conventions become to the life of the society that only Plum Lines exceeds them in importance.
Regardless of where or when they are held, our binges follow the same general format:
Thursday: some people arrive early for optional activities and an informal meet and greet in the evening
Friday: the usual kick-off with registration (when attendees receive a bag of special convention "loot")
Friday evening: an opening reception that can involve simple cocktails or an organized, entertainment-filled occasion
Saturday: "Riveting Talks" that can range from the illuminating to the fascinating to the downright silly, punctuated by a short, fanciful business meeting
Saturday evening: a glorious reception and banquet to which many participants come in costume and at which toasts are drunk and prizes are awarded
Sunday morning: a closing brunch where further entertainment may be provided and tearful farewells are exchanged, with promises to meet again in two years
The fine details of each convention vary from one year to the next, but certain traditions have sprung up with the passing of time: a city tour, a Fiendish Quiz, a "cricket experience", games, a costume parade ("cosplay" to our younger members), post-dinner dancing, skits, readings, and musical presentations, to name but a few. Not all of these are guaranteed at each convention, but there will always tons of fun in store for anybody who decides to attend a binge.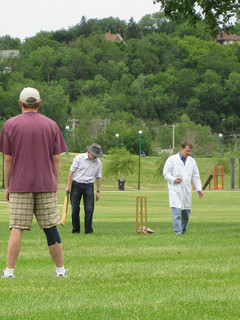 TWS Cricket Experience. St. Paul, 2009
Here are links to information and photos about past conventions. Check them out and see what you've been missing!
Conventions are organized and overseen by The Wodehouse Society Convention Committee (Committee Charter can be found ). Anyone interested in helping out should contact the Committee Chair, Elliott Milstein, at ElliottTWSCC@gmail.com.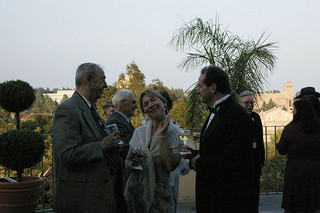 Cocktail time — southern California style. Hollywood, 2005