Conventions
2022 is the new 2021!
The TWS Convention originally slated for October of this year has been rescheduled for October 20–23 of 2022. The venue remains the fabulous US Grant Hotel in San Diego, Calif. Be sure to check here and in Plum Lines for more details.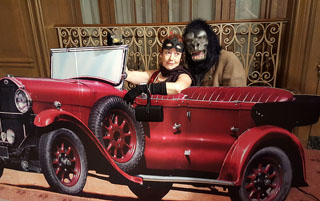 Monkeying about. Seattle, 2015
Our biennial convention brings together Wodehouse fans from all over the world for a long weekend of talks, games, excursions, songs, skits, and, of course, lots of browsing and sluicing. We gather together, read, shop, eat, talk, listen, and drink, not necessarily in that order. At most conventions we also try to hold a cricket match, played according to laws set forth by our own
cricket club
. Neither athletic prowess nor familiarity with the game are required for participation.
Our most recent convention was held in , under the rubric "Pigs Have Wings," in October 2019. Before that we most recently met in , in October 2017. Prior parties gathered in , in October 2015, , in October 2013, Dearborn, Michigan, in October 2011, Saint Paul, Minnesota, in the summer of 2009, and Providence, Rhode Island, in the fall of 2007. Sites of conventions prior to Divine Providence include , in 2005, , in 2003, Philadelphia, Pennsylvania, in 2001, and Houston, Texas, in 1999.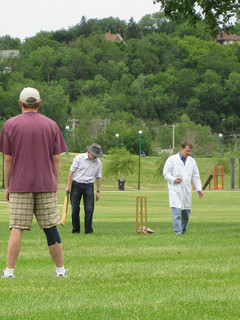 TWS Cricket Experience. St. Paul, 2009
Looking even further back, we gathered together in Chicago once before in 1997, in Boston, Mass. in 1995, San Francisco was our host for 1993, and New York City did the honors in 1991, and that was a marked difference from the 1989 event in Kalamazoo, Michigan. Kalamazoo was our fourth convention. The first two, in 1981 and 1983, were in Doylestown, PA, near the home of our principal founder, Captain Bill Blood, and in 1985, Ithaca, NY, near President Robert A. Hall, Jr.'s, Cornell University home, was our host city. The Blandings Castle chapter in San Francisco, ever a popular stop, hosted TWS convention in 1987. But rannygazoo in Kalamazoo is as great a joy as a Big Apple juice jaunt or a 'frisco festival and our next meeting, doubtless like Pseattle in 2015, will be the best convention ever!
So, in 2019, on an October weekend (but lots of folks come a bit early and stay over a few days, too), we hope you'll join us in Cincinnati, Ohio for more Wodehouse fun. Check back here regularly for details as they become available. The Wodehouse Society is a non-profit organization under U.S. tax laws, which restrict the amount of business we can do with non-members of the group. So if you plan to attend the Convention and have not yet joined TWS, we will make it easy to join while registering: the convention registration form will include a required joining fee of $35 for non-members which covers their first year's membership in TWS. (One membership fee pays for a membership for one or two persons living at the same address.) But why wait? Join now on the Membership tab.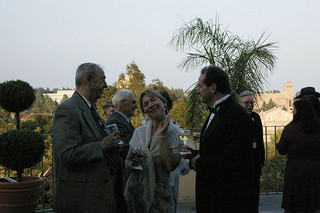 Cocktail time — southern California style. Hollywood, 2005
At the 2005 convention, The TWS Board of Directors took the drastic step of creating its first official task force, The Wodehouse Society Convention Committee (TWSCC). This was an unprecedented undertaking, our Society's founders and organizers being justly famous for their allergic reaction to anything smacking of "serious purpose." Things have come to the point, however, where such evils are believed to be necessary. Thus, anyone interested in hosting a future convention will need to study the to find out how to proceed.