Chapters of The Wodehouse Society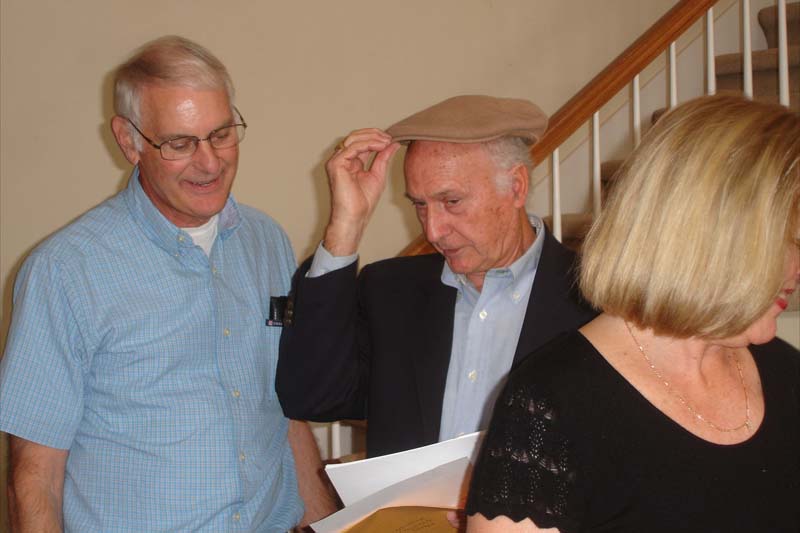 The pink chappie (Harry) tries on his cap.
Regional chapters bring some of our lucky members together for meetings between conventions. Each chapter has its own traditions and favorite events; some meet in libraries or bookstores, others in restaurants or members' homes. More often than not, the food, drink, and friendships shared are as important as the program. Excursions to theatrical events, historical sites, and just-for-fun weekend retreats are also popular. New members and visitors are always welcome. Information about the North American chapters can be found by clicking on the pins in the map below.
Three of our chapters don't quite fit on the map. These are a Society-wide chapter for members that are also Sherlock Holmes enthusiasts, which is located in the Netherlands, and which meets through some trans-dimensional portal called "Zoom". Information for these chapters can be found by clicking on their names above.
State/Province
Chapter Information
(The Netherlands)
The Right Honorable Knights of Sir Philip Sidney
Amsterdam, The Netherlands
Contact Peter Nieuwenhuizen

(all)
The Clients of Adrian Mulliner

Contact Elaine Coppola

The Fourth Dimension

Contact Freda Kirkham

Alabama
The Banjolele Band
Greater Birmingham area
Contact Caralyn McDaniel

California
Blandings Castle
Greater San Francisco Bay area
Contact Lord Emsworth

The Orange Plums
Orange County area
Contact Diana Van Horn

Colorado
The Denver of the Secret Nine
Denver and vicinity
Contact Jennifer Petkus

Website
District of Columbia
Capital! Capital!
Washington, D.C. and vicinity
Contact Susan Parsons

Illinois
The Chicago Accident Syndicate
Chicago and thereabouts
Contact Daniel & Tina Garrison

Massachusetts
The New England Wodehouse Thingummy Society (NEWTS)
Boston and elsewhere in New England
Contact Lynn Vesley-Gross

Michigan
The Pickering Motor Company
Detroit and vicinity
Contact Elliott Milstein

Minnesota
The Northwodes
St. Paul, Minneapolis, and vicinity
Contact Mike Eckman

New York
The Broadway Special
Greater New York City area
Contact Amy Plofker

Friends of the Fifth Earl of Ickenham
Buffalo, NY, and vicinity
Contact Laura Loehr

North Carolina
A Little More Bertie than Jeeves
Waynesville/Sylvia, North Carolina
Contact Beth Baxley

Nova Scotia
The Size 14 Hat Club
Halifax, Nova Scotia
Contact Jill Robinson

Ohio
The Flying Pigs
Cincinnati area and elsewhere
Contact Susan Pace

Ontario
The Pale Parabolites
Toronto, Ontario, Canada
Contact George Vanderburgh

Pennsylvania
Chapter One
Greater Philadelphia
Contact Mark Reber

The Pittsburgh Millionaires Club
Pittsburgh, Pennsylvania
Contact Allison Thompson

Plum Crazies
South Central Pennsylvania
Contact Betty Hooker

Tennessee
The Melonsquashville (Tenn.) Literary Society
Greater Knoxville area
Contact Ken Clevenger

Rugby in all its Niceties
Rugby, Tennessee area
Contact Donna Heffner

Texas
The Drone Rangers
Houston and vicinity
Contact Carey Tynan

The Mottled Oyster Club/Jellied Eels
San Antonio and South Texas
Contact Lynette Poss

The West Texas Woosters
West Texas
Contact Troy Gregory

Washington
Anglers' Rest
Seattle and vicinity
Contact Susan Collicott

Plum Street Plummies
Olympia and vicinity
Contact Major Thomas L. R. Smith, USA (Ret)

[ {"id":"philipSidney","lat":null,"lon":null,"state":"(The Netherlands)","name":"The Right Honorable Knights of Sir Philip Sidney","area":"Amsterdam, The Netherlands","contactName":"Peter Nieuwenhuizen","contactData":null,"contactEmail":"info@wodehouse-society.nl","webAddr":null}, {"id":"clientsOfAMulliner","lat":null,"lon":null,"state":"(all)","name":"The Clients of Adrian Mulliner","area":null,"contactName":"Elaine Coppola","contactData":null,"contactEmail":"emcoppol@syr.edu","webAddr":null}, {"id":"fourthDimension","lat":null,"lon":null,"state":"(all)","name":"The Fourth Dimension","area":null,"contactName":"Freda Kirkham","contactData":null,"contactEmail":"fskirkham@gmail.com","webAddr":null}, {"id":"banjoleleBand","lat":"33.52","lon":"-86.81","state":"Alabama","name":"The Banjolele Band","area":"Greater Birmingham area","contactName":"Caralyn McDaniel","contactData":null,"contactEmail":"jeevesgirl@gmail.com","webAddr":null}, {"id":"blandingsCastle","lat":"37.82","lon":"-122.37","state":"California","name":"Blandings Castle","area":"Greater San Francisco Bay area","contactName":"Lord Emsworth","contactData":null,"contactEmail":"sfblandingscastle@gmail.com","webAddr":null}, {"id":"orangePlums","lat":"33.68","lon":"-117.80","state":"California","name":"The Orange Plums","area":"Orange County area","contactName":"Diana Van Horn","contactData":null,"contactEmail":"dvanhorn@socal.rr.com","webAddr":null}, {"id":"denverOfTheSecretNine","lat":"39.74","lon":"-104.99","state":"Colorado","name":"The Denver of the Secret Nine","area":"Denver and vicinity","contactName":"Jennifer Petkus","contactData":null,"contactEmail":"petkusj@virtuallight.com","webAddr":"http:\/\/thedenverofthesecretnine.wordpress.com"}, {"id":"capitalCapital","lat":"38.89","lon":"-77.035","state":"District of Columbia","name":"Capital! Capital!","area":"Washington, D.C. and vicinity","contactName":"Susan Parsons","contactData":null,"contactEmail":"susandparsons@aol.com","webAddr":null}, {"id":"chigaoAccidentSyndicate","lat":"41.88","lon":"-87.63","state":"Illinois","name":"The Chicago Accident Syndicate","area":"Chicago and thereabouts","contactName":"Daniel & Tina Garrison","contactData":null,"contactEmail":"d-garrison@northwestern.edu","webAddr":null}, {"id":"newts","lat":"42.0","lon":"-71.8","state":"Massachusetts","name":"The New England Wodehouse Thingummy Society (NEWTS)","area":"Boston and elsewhere in New England","contactName":"Lynn Vesley-Gross","contactData":null,"contactEmail":"tws_the_dog_emily@icloud.com","webAddr":null}, {"id":"pickringMotorCompany","lat":"42.33","lon":"-83.05","state":"Michigan","name":"The Pickering Motor Company","area":"Detroit and vicinity","contactName":"Elliott Milstein","contactData":null,"contactEmail":"ellmilstein@yahoo.com","webAddr":null}, {"id":"northwodes","lat":"44.95","lon":"-93.19","state":"Minnesota","name":"The Northwodes","area":"St. Paul, Minneapolis, and vicinity","contactName":"Mike Eckman","contactData":null,"contactEmail":"mceckman47@gmail.com","webAddr":null}, {"id":"broadwaySpecial","lat":"40.78","lon":"-73.97","state":"New York","name":"The Broadway Special","area":"Greater New York City area","contactName":"Amy Plofker","contactData":null,"contactEmail":"amyplf@verizon.net","webAddr":null}, {"id":"friendsOfTheFifthEarlOfIckenham","lat":"42.89","lon":"-78.85","state":"New York","name":"Friends of the Fifth Earl of Ickenham","area":"Buffalo, NY, and vicinity","contactName":"Laura Loehr","contactData":null,"contactEmail":"lawloehr@gmail.com","webAddr":null}, {"id":"littleMoreBertieThanJeeves","lat":"35.432","lon":"-83.086","state":"North Carolina","name":"A Little More Bertie than Jeeves","area":"Waynesville\/Sylvia, North Carolina","contactName":"Beth Baxley","contactData":null,"contactEmail":"alittlemorebertiethanjeeves@gmail.com","webAddr":null}, {"id":"size14HatClub","lat":"44.64","lon":"-63.58","state":"Nova Scotia","name":"The Size 14 Hat Club","area":"Halifax, Nova Scotia","contactName":"Jill Robinson","contactData":null,"contactEmail":"jillcooperrobinson@hotmail.com","webAddr":null}, {"id":"flyingPigs","lat":"39.1","lon":"-84.51","state":"Ohio","name":"The Flying Pigs","area":"Cincinnati area and elsewhere","contactName":"Susan Pace","contactData":null,"contactEmail":"lspace@cinci.rr.com","webAddr":null}, {"id":"paleParabolites","lat":"43.65","lon":"-79.38","state":"Ontario","name":"The Pale Parabolites","area":"Toronto, Ontario, Canada","contactName":"George Vanderburgh","contactData":null,"contactEmail":"george.vanderburgh@gmail.com","webAddr":null}, {"id":"chapterOne","lat":"39.95","lon":"-75.16","state":"Pennsylvania","name":"Chapter One","area":"Greater Philadelphia","contactName":"Mark Reber","contactData":null,"contactEmail":"rebermkrk@gmail.com","webAddr":null}, {"id":"millionairesClub","lat":"40.44","lon":"-79.99","state":"Pennsylvania","name":"The Pittsburgh Millionaires Club","area":"Pittsburgh, Pennsylvania","contactName":"Allison Thompson","contactData":null,"contactEmail":"allison.1775.thompson@gmail.com","webAddr":null}, {"id":"plumCrazies","lat":"40.26","lon":"-76.88","state":"Pennsylvania","name":"Plum Crazies","area":"South Central Pennsylvania","contactName":"Betty Hooker","contactData":null,"contactEmail":"bhooker@ptd.net","webAddr":null}, {"id":"melonsquashville","lat":"35.969","lon":"-83.918","state":"Tennessee","name":"The Melonsquashville (Tenn.) Literary Society","area":"Greater Knoxville area","contactName":"Ken Clevenger","contactData":null,"contactEmail":"Plumbeak@gmail.com","webAddr":null}, {"id":"rugbyNiceties","lat":"36.35","lon":"-84.7","state":"Tennessee","name":"Rugby in all its Niceties","area":"Rugby, Tennessee area","contactName":"Donna Heffner","contactData":null,"contactEmail":"redhill1@highland.net","webAddr":null}, {"id":"droneRangers","lat":"29.76","lon":"-95.36","state":"Texas","name":"The Drone Rangers","area":"Houston and vicinity","contactName":"Carey Tynan","contactData":null,"contactEmail":"cctynan@aol.com","webAddr":null}, {"id":"mottledOysterClub","lat":"29.42","lon":"-98.49","state":"Texas","name":"The Mottled Oyster Club\/Jellied Eels","area":"San Antonio and South Texas","contactName":"Lynette Poss","contactData":null,"contactEmail":"lynetteposs@sbcglobal.net","webAddr":null}, {"id":"westTexasWoosters","lat":"34.53","lon":"-101.79","state":"Texas","name":"The West Texas Woosters","area":"West Texas","contactName":"Troy Gregory","contactData":null,"contactEmail":"troy.gregory@wbu.edu","webAddr":null}, {"id":"anglersRest","lat":"47.60","lon":"-122.33","state":"Washington","name":"Anglers' Rest","area":"Seattle and vicinity","contactName":"Susan Collicott","contactData":null,"contactEmail":"susancollicott@gmail.com","webAddr":null}, {"id":"plumStreetPlummies","lat":"47.04","lon":"-122.89","state":"Washington","name":"Plum Street Plummies","area":"Olympia and vicinity","contactName":"Major Thomas L. R. Smith, USA (Ret)","contactData":null,"contactEmail":"brimsmith@comcast.net","webAddr":null} ]